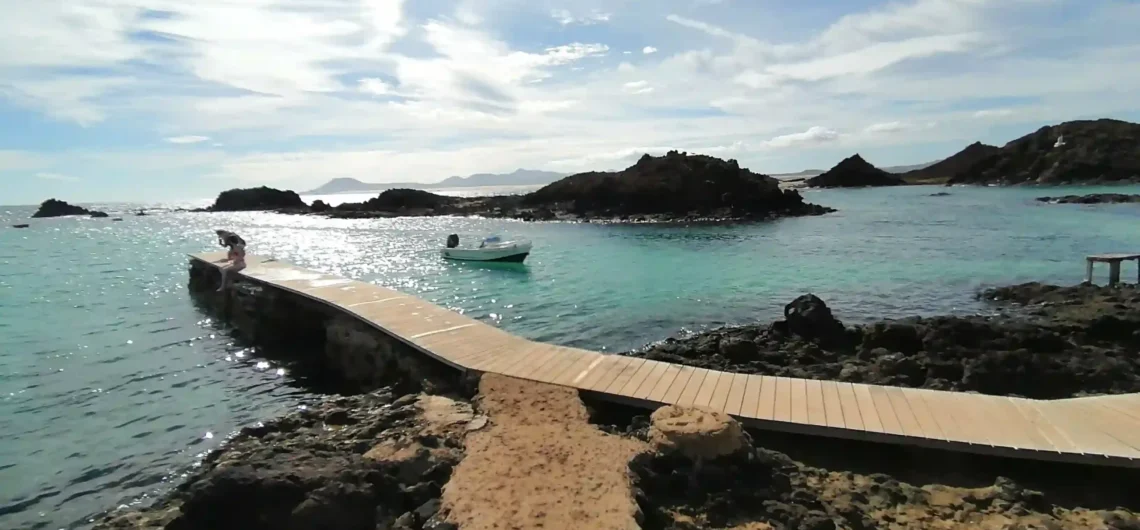 Escape to a world of natural beauty on Lobos Island, Fuerteventura!
Immerse yourself in the crystal clear waters of the island, the white sand beaches and the exuberant vegetation.
Take in the breathtaking views and rejuvenate your body and mind with the calm atmosphere of Lobos
Do you have questions?
Send us a WhatsApp!
Did you know?
Isla de Lobos is a small island located off the coast of Fuerteventura. It is a nature reserve and home to a variety of flora and fauna, including seabirds, lizards, and rabbits.
Why is it called Isla de Lobos?
Isla de Lobos gets its name from the historical presence of sea lions in the area. In the past, the island was a natural refuge for Atlantic sea lions that used the island to rest and breed.
What can you do on Lobos Island?
The island is a popular destination for bird watching and nature photography, and also offers a number of hiking trails. Other activities that you can enjoy on Lobos Island are swimming, snorkeling and sunbathing on its beaches
6 famous places you have to visit in lobos:
            1, The Visitor Center:

It is a facility that provides information and resources for tourists and visitors to the island. It is usually run by the local government or a tourism organization, and may                    offer a variety of services and amenities, such as maps, brochures, guided tours, and educational materials about the island's history, culture, and natural environment.
              2, Restaurant of Antonito El Farero:
Named in honor of the last inhabitant who lived on the island in the Punta Martiño Lighthouse, it is in Puertito de Lobos. Important to go first, and reserve the table,                       because they have few places available.
               3, Dock in the little port:
To take the most famous photo of Lobos you have to see the small pier in the port. In summer they queue up!
                  4, La Concha beach:
Playa de la Concha, which is a popular place to swim, sunbathe and enjoy the natural beauty of the area.
                    5, The Mountain La Caldera:
The crater, the product of a chain of eruptions 130,000 years ago, is 122 meters high and is a vantage point on this small island between Fuerteventura and Lanzarote.
                    6, Punta Martino Lighthouse:
The lighthouse is located on a hill at the northeast end of the islet of Lobos. It began its service in July 1865. The lighthouse is a popular tourist attraction on Isla de Lobos. The lighthouse is located at the highest point of the island, providing panoramic views of the surroundings.
Volcano and Camel Safari Fuerteventura Come and enjoy a pleasant
Dune Buggy Safari Corralejo Join us for an amazing Buggy
From our Blog
Isla de Lobos offers many programs for its visitors The island, despite its limited space, has some activities that can be done such as: Surfing " La derecha de Lobos" In Lobos is the longest wave in the Canary Islands.
Read More!
Comentarios
Tom
It was a very good trip! Pichon is a real professional
John
We had a lot of fun! Thank you Philip!
Isla de Lobos
3:04 pm, October 3, 2023
28°C
Wind: 21 Km/h
Pressure: 1017 mb
Visibility: 10 km
Sunrise: 07:49
Sunset: 19:39
Suscríbase aqui!
Será el primero en recibir nuestras noticias.